It's no secret that Americans are busy. Between working long hours, shuttling kids to and from activities, and spending time with friends and family, there just isn't always enough time in the day for a home-cooked meal. That's where convenient meal solutions come in, which IRI report to be an elevated category this year. They offer a way to have a nutritious meal without all the fuss. Here are some new and noteworthy products in this category that you'll want to check out.
Upton's Naturals Barbeque Jackfruit
What is it? At first glance, Upton's Naturals Barbeque Jackfruit might not look like much. We found it on the top shelf of the cooking sauces section of Wholefoods. However, this unassuming product contains a deceptively delicious secret: jackfruit. For the uninitiated, jackfruit is a tropical fruit that has a similar appearance to durian. However, unlike durian, jackfruit is perfectly safe (and tasty) to eat. In fact, it's often used as a meat replacement in vegan and vegetarian dishes. When cooked properly, jackfruit has a similar texture to pulled pork. Upton's Naturals Barbeque Jackfruit is cooked in a savory BBQ sauce, making it an ideal choice for anyone who is looking for a delicious and healthy alternative to traditional barbecue fare.
Why did we like it? Upton's Barbeque Jackfruit is pre-seasoned with a smoky, tangy BBQ sauce, making it ready to eat right out of the package after heating. You can also use it as a replacement for pulled pork or chicken in your favorite recipes.
Opportunity? While the texture of the jackfruit could be more shredded, the flavor more than makes up for it. It was also hard to find in store so keep a keen eye out for it.
Where to buy – we purchased our pack in Wholefoods but you can also buy direct from their website
Wild Zora's Quinoa Bowls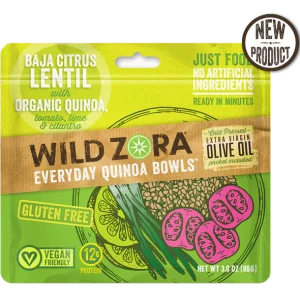 What is it? Wild Zora's Quinoa Bowls are a great way to enjoy a healthy, hearty meal without spending hours in the kitchen. This dish is packed with nutrient-rich quinoa, zesty cilantro and sun-dried tomatoes. The best part? It comes together in just minutes, making it the perfect weeknight meal.
Why did we like it? These are a great way to enjoy a healthy, hearty meal that's full of flavor. They're perfect for busy people who want to eat well but don't have time to cook complicated meals. The brand has many great options available, there's sure to be something for everyone in the convenient meals solutions category.
Opportunity? With so many options already available, there's always room for business model innovation. For example, Wild Zora could partner with local grocery stores to offer meal kits that make it easy for customers to get hold of their products and add cook their favorite dishes at home. Or, the brand could explore new packaging methods that help increase the sustainable value of their products. No matter what direction Wild Zora takes, one thing is for sure- they'll always be at the forefront of delicious and healthy food options!
Where to buy – direct from their website
Ka'Chava All in One Superfood Meal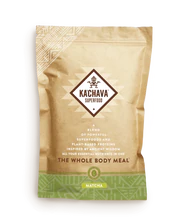 What is it? Ka'Chava's new matcha flavor is a delicious addition to their already impressive range of flavors.
Why did we like it? The matcha flavor is perfectly balanced and gives a nice boost of energy. The texture is smooth and creamy, making it a pleasure to drink. I highly recommend this flavor to anyone looking for a new and healthy beverage option.
Opportunity? According to reviews, the flavor seems to work well hitting floral notes as opposed to the usually earthy, grassy notes matcha typically has. Some reviewers felt that the flavor was a bit overpowering but we liked it. Overall, though, Ka'Chava's new matcha flavor is a welcome addition to their line-up and is sure to please many fans.
Where to buy – direct from their website
Thank you for reading! We hope you have found this post helpful. Be sure to check back next month when we explore mood-enhancing products and their benefits. Look out for our review on Wile Drinkable Stress Relief. In the meantime, leave us a comment and let us know what your favorite convenient meal solution is. Or check out the self-care products we tried last month.
31 Posts